HIAS Science Moodle
Want to be kept up-to-date?
Click here to subscribe to our Science site news so we can keep you up-to-date with the latest news and training opportunities from the HIAS Science team. Registration just takes a few minutes and you can unsubscribe at any time.

Skip site news
Site news
HIAS Science Disciplinary Knowledge/ Working Scientifically KPI Assessment
We are pleased to be sharing with you the first of our NEW HIAS Science Disciplinary Knowledge/ Working Scientifically KPI Assessment booklets. 
They can be found on our Moodle+ page now. 
The assessment tasks are designed to provide evidence to support assessment against the KPIs in the end of KS1 and statutory end of KS2 assessment Framework.
The assessment activities will present pupils with a scenario where they will have to use their disciplinary knowledge, which has been developed and mastered over the previous years, to solve a problem or answer a question.
These are the first disciplinary knowledge/working scientifically KPI assessments which will be carried out across year 2 and year 6. This, combined with information gathered through day to day assessment as well as the end of unit assessment booklets, will provide teachers with all the required information and evidence needed to accurately assess pupils in science at the end of each key stage.
The KPI working scientifically assessment points covered by each activity are listed in each booklet.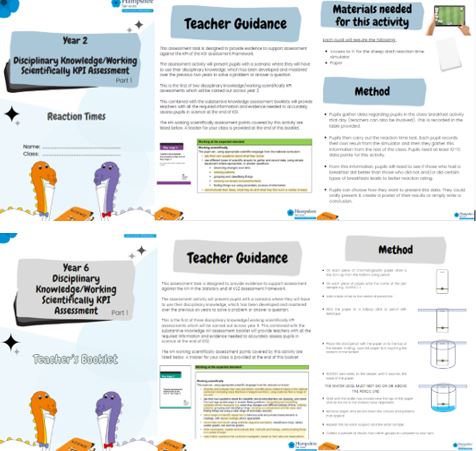 Book now for the Spring 23-24 Primary Core Science Co-ordinator Network
This set of three meetings across the academic year are for Primary Science Co-ordinators to come together to network with colleagues. These meetings are a chance for science subject leaders to learn about and discuss the latest local and national initiatives in science in order to be fully informed of the developments within the subject. 
Available dates:
4 March 2024 – Fareham 2  
5 March 2024 – New Forest  
7 March 2024 – Fleet 
8 March 2024 – Basingstoke 
11 March 2024 – Winchester 
12 March 2024 – Havant 
14 March 2024 – Fareham 1 
Search and book on the Learning Zone using keyword search: Spring Core Science  
Price: Sub £95 / SLA £60 / Full £114 
Join us for the Autumn 23-24 Hampshire Secondary Senior Science Technicians Meeting – 1 December 2023
A chance for science technicians in Hampshire to get together to network and share good practice, ideas, or concerns.
HIAS Adviser and Radiation Protection Officer (RPO) Kevin Neil, will provide updates on changes to the RPO service and other updates from the CLEAPPS safety conference. Feedback from the Hampshire safety audit will also be provided.
Search and book on the Learning Zone using keyword search: Science Technicians
Price: Sub £75 / SLA £40 / Full £90 
Sign up to the Newly Appointed Primary Science Coordinator Training - 23-24 – 29 February 2024
Taking on the leadership of science can appear a daunting task for many new science co-ordinators, especially at a time when its place in the curriculum is under greater scrutiny. 
This one-day training session will help new co-ordinators gain a clear understanding of what science teaching and learning should be like and identify what they need to do to further develop the subject in their own school. 
Part of the cost of the training includes a half day visit from either Kevin Neil, County Inspector for Science, or Emma Cooper, General Inspector/Adviser for Science, to support your school's specific challenges/developments.  
This course is offered in the Autumn and Spring terms. 
Search and book on the Learning Zone using keyword search: Science Coordinator
Price:
Sub £715 / SLA £635 / Full £858
Good afternoon!
I hope this message finds you well in the third week of the new school year!
Next Friday is our first Newly Appointed Science Leader training course of the year- there are still spaces if this is something you think would benefit you. As well as the day's training, as part of the course you are entitled to a follow up support session in your school. Details of this can be found on our science moodle page- Course: Upcoming Science Courses (hants.gov.uk).
Here are the dates of the next science network sessions… There are still spaces on all locations. Remember, if you do attend these sessions, we ask that you bring a selection of children's books with you to use in the session. And this year, it will be even more important to remember these as the focus for the year is on moderation and assessment in KS1 and 2 science as well as a chance for you to learn about and discuss the latest local and national initiatives in science in order to be fully informed of the developments within the subject.
Over the past few weeks, I have been sent many interesting articles, web links and resources that I wanted to share with you all…
Get ready to join the National Education Nature Park
It's nearly time to join the National Education Nature Park! From Wednesday 4 October, all education settings in England will be able to get involved on our new website and begin their journey to start boosting nature in education.
To celebrate the launch, we'd love as many schools, nurseries and colleges as possible to take part in our Hidden Nature Challenge on the 4 October. From discovering a plant growing in an unexpected place to finding a repeating pattern in nature, upload your findings to our online map, where you'll be able to see hidden nature being revealed in places of education across the country on this day. #EducationNaturePark

 Hidden Nature Challenge
On 4 October, take your class outside and follow the prompts to discover the hidden nature on your learning site in this quick activity. This is a great way to get a taste of what the National Education Nature Park is all about, seeing green skills that can be developed and the positive impact we can have if we work together. Share your involvement using #EducationNaturePark.
 For more information, please take a look at the following clip… https://youtu.be/qUB_9Prh9Rk
FREE nature connection programme for schools
WWT have had a fantastic response to their Generation Wild programme. With the programme entering its third year, over 28,000 children have already taken part and they've completed over 70,000 nature connection activities at home and at school. Your pupils could join them.
Generation Wild is a nature connection programme for schools in economically disadvantaged areas. Children follow the magical story of Ava the bird girl, a character who is brought to life during a visit to the wetland centre. She encourages them to complete nature activities back at school and at home to receive their certificates and membership badges as they become 'Guardians of the Wild'.
The project includes FREE school visits (including FREE transport) as well as FREE return visits enabling children to share the magic with their families. Curriculum resource packs have also been produced so you can tie the project in with your class topics.
We recommend planning ahead and booking for a time of year when you are delivering a relevant topic. This might include work on nature, the environment, animals, habitats, food chains, journeys / migration or work focusing on Africa (Ava migrates to Africa).
We are now taking bookings for participation right through to the end of July 2024. The qualifying criteria are based on the percentage of pupils receiving free school meals and vary by region.
 To find out more and see if your school qualifies visit www.generationwild.org.uk
 An interactive and engaging way to inspire children to genuinely bond with nature. We loved it - our children loved it - it was fabulous! (Participating teacher)
Supporting teaching the science curriculum outdoors- Claire Westlake, Outdoor Learning Adviser
 Bat and Moth Game

 - To understand how bats locate their prey.

Beetle Drive Using Natural Materials - Use this classic game to learn the parts of anatomy of various different insects
Blackbirds' Lunch Game - Explore the environment and understand what a blackbird needs to survive (Great to include as part of a KS1 longitudinal study)
Food Chain and Food Web Activities Outdoors - Outdoor activities to help understand food chains and food webs
Habitat Activities Outdoors - Outdoor activities to help children learn about and appreciate different habitats
Minibeasts - Different techniques to hunt for mini-beasts and follow up activities
Mud and Soil Activities   - Ideas to make playing in the mud fun and a variety of activities and investigations to understand soil and its importance.
Planting for Clean Air at Your School - Use different plants and planting techniques to help improve the quality of air around your school. Produced in conjunction with My Journey Hampshire.
Pond Dipping - How to get the most from your pond dipping with follow up activities and resources.
River Studies Fieldwork - Advice and techniques for planning and conducting river fieldwork with follow up activities.
Sun Activities - Some outdoor learning activities that work particularly well when the sun is shining.
Tree Activities - A collection of activities to help children explore, investigate and appreciate the importance of trees.
 More ideas and documents can be found on the Trailblazer website
And finally, thank you to all those who have contributed to the science curriculum update- Powerful Science. It has just been sent to the publishing team so keep your eyes peeled for it either as a paper copy or via email to your school admin over the new few weeks. If you would like to contribute an article in our spring edition, please do get in touch.
Best wishes

Emma Cooper
emma.cooper3@hants.sch.uk
Older topics...